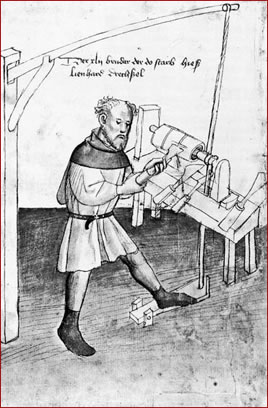 turning on a pole-lathe c.1395
The production of pewter in the medieval period was controlled by the Pewterers Guild whose task it was to control and maintain the quality of Pewterers work. The London based Pewterers Guild gained their first ordinances from the city authorities in 1348, and in 1474 they were granted a Royal Charter by King Edward IV, becoming the Worshipful Company of Pewterers, and giving them the right to control the manufacture of pewter throughout England.
The Company enforced the standards to which various types of item should be made. Three types of pewter were used. 'Fine' pewter was used for flatwares and the regulations stated that this metal should consist of 91-97% tin with the addition of copper to harden the tin. The second grade was 'lay' metal and this could contain up to 16% lead. A third grade of pewter known as trifling metal was permitted for the manufacture of toys and other small items. This metal could contain quite large quantities of lead. Today all pewter is lead free, containing tin, copper and either antimony or bismuth.
Although the Worshipful Company of Pewterers influence over the industry waned from the 18th century onwards and eventually having few real links with the trade, the formation in 1970 of the Association of British Pewter Craftsmen once again established the traditional link between pewter craftsmen and the Worshipful Company. Lionheart Replicas is a member of the ABPC.